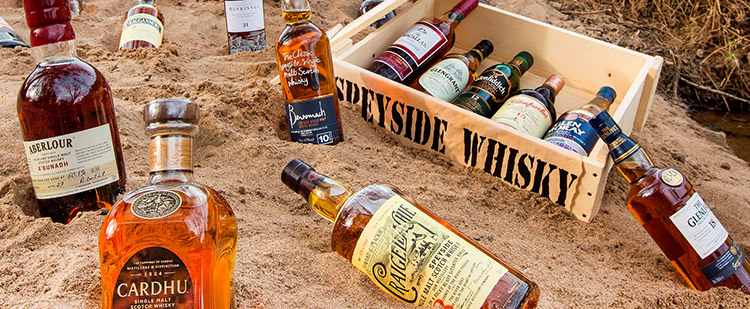 Wenn Sie denken, dass Spirit of Speyside Whisky Festival feiert einfach nur den bernsteinfarbenen Nektar aus der weltberühmten Region, der Heimat von mehr als der Hälfte von Schottlands Malt Whisky Brennereien dann haben Sie falsch gedacht – die Besucher bekommen auch die Möglichkeit, eine Reihe von japanischen Whiskeys zu probieren.
Während die Nachfrage, bei exklusiven Distillery-Touren hinter die Kulissen zu schauen und namhafte Persönlichkeiten der Speyside Whisky-Industrie zu treffen, sehr hoch ist, bringt es der Ruf des Festivals als erstklassiges Whisky-Event mit sich, dass während der Veranstaltung einige ungewöhnliche Drams angeboten werden.
Obwohl die Speyside-Brennereien argumentieren würden, dass ihre Produkte die weltweit Besten sind, haben japanische Whiskies ihre Spuren hinterlassen. Speyside's The Highlander Inn in Craigellachie ist im Besitz von Tatsuya Minagawa aus Japan und ist die Heimat einer der weltweit größten Sammlungen von japanischen Whiskeys außerhalb Südostasiens. Hier wird der Global Brand Ambassador Yumi Yashikawa "Alles über die Chichibu Distillery" erörtern – und bietet dabei die seltene Chance, brandneue Abfüllungen und neue Fassproben von Whiskies zu probieren, die noch nicht in Großbritannien verfügbar sind.
Although Speyside distilleries would argue that their produce is the best in the world, Japanese whiskies have been making their mark. Speyside's The Highlander Inn at Craigellachie is owned by Tatsuya Minagawa from Japan and is home to one of the world's largest collections of Japanese whiskies outside South East Asia. It is here that Global Brand Ambassador Yumi Yashikawa will discuss 'Everything about Chichibu Distillery' with a rare chance to try brand new bottlings and new cask samples of whiskies not yet available in the UK.

Whisky isn't just served in glasses in Speyside, it can be tasted in an array of foodstuffs, as the Spey Larder in Aberlour will show. This High Street delicatessen is serving samples of whisky-flavoured haggis, smoked salmon, cheeses, pâté, ice cream, cake, tea and coffee, all specially created by Scottish producers.

If you love crafts then a workshop offering the opportunity to create a textile card or brooch based on Scotland's national flower, the thistle might appeal. Working with a choice of fabric, including Harris Tweed or cloth from Johnstons of Elgin, it is a chance to use simple stitching or gluing techniques to create a small piece of Scotland to take home. Coffee and cake can be enjoyed at this workshop taking place at Dufftown's Seven Stills on several dates throughout the festival.

Scotland is gathering a growing reputation for its gin production and the home of Caorunn Gin is opening its doors to festival goers. Speyside's Balmenach Distillery will be offering an insight into Caorunn's artisanal production process with a tour of the production area followed by tutored, deconstructed nosings and tastings, including neat tastings.

Chocolates will be served with very special drams when drinks writers Joel Harrison and Neil Ridley get together at Aberlour Distillery to go back to the birth of film and use the moving image to highlight the influence of maturation in sherry casks with a silent classic accompanied by live music.
Das diesjährige Festival läuft vom 27. April bis 1. Mai und das Programm umfasst fast 500 verschiedene Veranstaltungen in der Speyside, die in den alten und neuen Brennereien, charmanten Dorfhallen, lokalen Whisky-Bars, historischen Schlössern, alten Stationen und der Natur stattfinden.
Weitere Informationen über die Veranstaltung finden Sie unter www.spiritofspeyside.com und Tickets sind auch auf der Website erhältlich. Das Festival ist auf Social Media aktiv – facebook.com/WhiskyFestival und @ spirit_speyside auf Twitter und Instagram. Benutze den Hashtag #dram17.