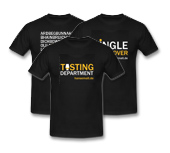 Ob Single Malt Whisky, Grain's oder Blend's – die T-Shirts und Taschen von whiskyshirts.de haben's 'drauf! Ideal für bekennende Liebhaber des Wasser des Lebens. Es gibt Motive zu den Themen: Single Malt Lover, Water of LifeStyle, Barley, Spring Water, Yeast, Filling Station, License to destill, Malt, Nosing, Silent season, Spirit Receiver, Tasting, Vatting, Whisky Tasting etc.
Auf der Website findet man eine Motivgalerie für alle verfügbaren Motive, einen Shop, in dem man die Bestseller einfach bestellen kann und den Desig-Bereich für eigene Kreationen mit den vorhandenen Motiven.
Die Shirts, Taschen etc. sind alle mit Texten ausgestattet, die einen Bezug zum Thema Whisky, Destillen etc. haben. Die aktuelle Auswahl soll noch erweitert werden. Unter anderem mit einer Photo-Collection mit Bildern aus Schottland, Destillerien etc.
Wer darüber rechtzeitig informiert werden will, kann sich für einen Newsletter anmelden.